My Fav Band.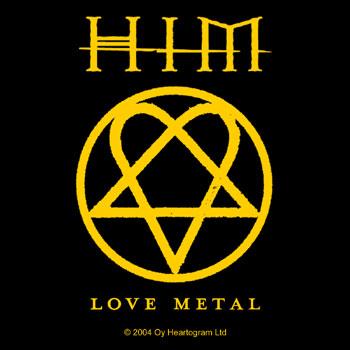 HIM (His.Infernal.Majesty) are my favorite band. Their metal,but mostly love songs. So that's why their called Love Metal. Their other songs are about death. I like HIM because they make good music. I like the lyrics in most of the songs,and the music is brilliant. The lead singer Ville Valo has a good voice.
Korn.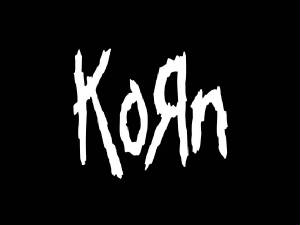 Korn are great! I like their lyrics and the music's heavy, which is cool. There a good band i think.

Biography
Korn
's cathartic alternative metal sound positioned the group among the most popular and provocative to emerge during the post-grunge era.
Korn
began its existence as the Bakersfield, CA-based metal band LAPD, which included guitarists James "Munky" Shaffer and Brian "Head" Welch, bassist Reginald "Fieldy Snuts" Arvizu, and drummer David Silveria. After issuing an LP, the members of LAPD in 1993 crossed paths with
Jonathan Davis
, a mortuary science student moonlighting as the lead vocalist for the local group Sexart; they soon asked
Davis
to join the band, and upon his arrival, the quintet rechristened itself
Korn
. After signing to Epic's Immortal imprint, they issued their debut album in late 1994; thanks to a relentless tour schedule that included stints opening for
Ozzy Osbourne
,
Megadeth
,
Marilyn Manson
, and
311
, the record slowly but steadily rose the charts, eventually going gold. Its 1996 follow-up, Life Is Peachy, was a more immediate smash, reaching the number three spot on the pop album charts. The following summer, they headlined Lollapalooza, but were forced to drop off the tour when Shaffer was diagnosed with viral meningitis. While recording their best-selling 1998 LP Follow the Leader,
Korn
made national headlines when a student in Zeeland, MI, was suspended for wearing a T-shirt emblazoned with the group's logo; the school's principal later declared their music "indecent, vulgar and obscene," prompting the band to issue a cease-and-desist order. Their annual Family Values tour also started in 1998, featuring a lineup that consisted of
Korn
collaborators such as
Limp Bizkit
and
Ice Cube
and likeminded artists such as
Rammstein
. The tour was an enormous success, so much so that it continued on with
Korn
overseeing the lineup for years after. Issues followed in 1999, and in typical
Korn
fashion they debuted their new single in an episode of South Park. The band toured behind the album into the next year, but their efforts were cut short by an injury that took out drummer David Silveria. They hired former
Faith No More
drummer
Mike Bordin
to help them finish the remaining shows, and took a short rest before joining a summer tour with
Metallica
,
Kid Rock
,
Powerman 5000
, and
System of a Down
. Silveria also returned amid rumors of leaving the band for a fashion career, but these were merely stemming from some modeling work he had done before his injury. A short headlining tour followed before the band stepped off the road for a much-deserved rest. Fieldy released a gangsta rap album and
Davis
scored the film Queen of the Damned in the meantime, but the band resurfaced as a unit toward the end of 2001 and entered the studio for their next album. A few shows with
Static-X
helped iron the wrinkles out of the new material, and by the next summer they had Untouchables ready for release.
Korn
did a run of Ozzfest dates in support, and the album was another smash hit. The self-produced Take a Look in the Mirror arrived in 2003. Billed by the band as a reconsideration of their sound, the album was accompanied by a tour of smaller venues called "Back to Basics." More touring followed, with dates in Japan and Asia; 2004 also included
Korn
's first greatest-hits collection. Welch left the band in 2005, evidently due to his newfound Christian faith. But
Korn
continued, playing shows that summer as a quartet and signing an expansive recording and development deal with Virgin. See You on the Other Side was released the following December. It featured a batch of songs co-written with hitmaking production team the Matrix.
Lostprohets are cool. I like their music and the lead singers voice. Most of the lyrics are good. Their a good band i think.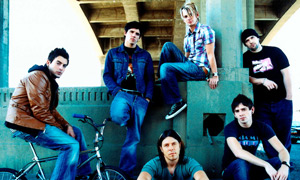 Biography-Lostprophets.
Welsh nu-metallers Lostprophets formed in the Cardiff satellite town of Pontypridd in 1997 following the breakup of Public Disturbance, who featured Ian Watkins on drums and guitarist Mike Lewis. Recruiting guitarist Lee Glaze and drummer Mike Chiplin, Watkins took over vocal duties. After playing around the local live scene, their first demo attracted the attention of metal magazine Kerrang!, which offered them a slot at a London show. There, they caught the eye of independent label Visible Noise, and were approached to record a single. Lostprophets spent much of 1999 working on new material with new bassist Stuart Richardson. They put out their second demo in February 2000 and signed up to Visible Noise, who released their debut album The Fake Sound of Progress that July. Support slots with Linea 77, Taproot, Pitchshifter, Linkin Park, and the Deftones, as well as incendiary headline shows of their own, brought the band a rabid live following. They also added old friend Jamie Oliver to the lineup on turntables.
In the summer of 2001, Lostprophets signed to Columbia in the U.S. and their debut album was remixed by famed producer Michael Barbiero and re-released. Stateside tours followed, afterwhich the Prophets entered the studio with helmer Eric Valentine (Queens of the Stone Age; Good Charlotte) to record a proper second album. The band began ratcheting up the exposure barometer again in autumn 2003, with gigs at Big Day Out in Australia, a headlining European and UK tour, and new single "Last Train Home" blowing up the charts on both sides of the Atlantic. The chatter was in anticipation of Start Something, slated to drop in February '04.
Genre:Punk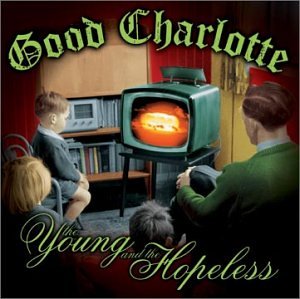 I really like Good Charlotte. They're a really good punk band. Good music and some brilliant lyrics. Some of their lyrics are very true, which makes the songs even better.

Good Charlotte-Biography
The East Coast post-grunge quartet
Good Charlotte
is just barely distinctive from the likes of corporate alternative rockers
Blink-182
and
Third Eye Blind
, but the fresh five faces composing this quintet from Maryland first started off in 1996, practically shy of strumming a chord. Vocalist Joel Madden and his twin brother guitarist Benji, who never sang or played an instrument in their lives, were instantly inspired to form a band after seeing the
Beastie Boys
on their 1995 Ill Communication tour. They soon formed
Good Charlotte
with high school chums Paul (bass) and Aaron (drums), and Billy (guitar) was added later. They all had a passion for the energetic elements spawned from '70s punk rock, but also sentimental enough for killer ballads found in mainstream corporate rock. Quickly, the band made a name for themselves in and around the D.C. area, playing the WHFS annual rock show HFSFestival in 1998 and 1999. A year later,
Good Charlotte
issued their self-titled debut on Epic. The Madden brothers scored a gig as MTV VJ's and soon were all over the network's late night rock show All Things Rock. This promotion helped the band greatly, as they spent time behind the scenes writing songs for the new album. By the fall of 2002,
Good Charlotte
was ready to release The Young and the Hopeless. "Lifestyles of the Rich and Famous" and "Anthem" catapulted the band into the mainstream in 2003 and shared dates with New Found Glory for the third annual Civic Tour were equally successful. In 2004, the band returned with The Chronicles of Life and Death. ~ MacKenzie Wilson,
Green Day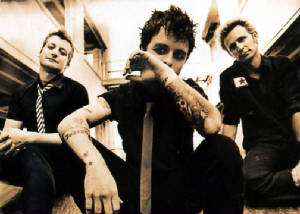 I like Green Day because they make good music,i like their punk style. My favorite song of their's is "Wake me up when September ends".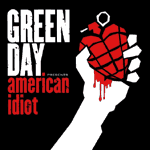 Green Day- Biography
Out of all the post-Nirvana American alternative bands to break into the pop mainstream, Green Day were
second only to
Pearl Jam
in terms of influence. At their core,
Green Day
were simply punk revivalists, recharging the energy of speedy, catchy three-chord punk-pop songs. Though their music wasn't particularly innovative, they brought the sound of late-'70s punk to a new, younger generation with Dookie, their 1994 major-label debut.
Green Day
weren't always able to sustain their success -- Dookie sold over eight million, while its follow-up, Insomniac, only sold a quarter of its predecessor -- yet their influence was far-reaching because they opened the doors for a flood of American neo-punk, punk metal, and third wave ska revivalists.
Green Day were part of the northern California underground punk scene. Childhood friends Billie Joe Armstrong (guitar, vocals) and Mike Dirnt (bass; born Mike Pritchard) formed their first band, Sweet Children, in Rodeo, CA, when they were 14 years old. By 1989, the group had added drummer Al Sobrante and changed its name to Green Day. That year, the band independently released its first EP, 1,000 Hours, which was well-received in the California hardcore punk scene. Soon, the group had signed a contract with the local independent label, Lookout. Green Day's first album, 1,039/Smoothed Out Slappy Hour, was released later that year. Shortly after its release, the band replaced Sobrante with Tre Cool (born Frank Edwin Wright, III); Cool became the band's permanent drummer.
Throughout the early '90s, Green Day continued to cultivate a cult following, which only gained strength with the release of their second album, 1992's Kerplunk. The underground success of Kerplunk led to a wave of interest from major record labels; the band eventually decided to sign with Reprise. Dookie, Green Day's major-label debut, was released in the spring of 1994. Thanks to MTV support for the initial single, "Longview," Dookie became a major hit. The album continued to gain momentum throughout the summer, with the second single, "Basket Case," spending five weeks on the top of the American modern rock charts. At the end of the summer, the band stole the show at Woodstock '94, which helped the sales of Dookie increase. By the time the fourth single, "When I Come Around," began its seven-week stay at number one on the modern rock charts in early 1995, Dookie had sold over five million copies in the U.S. alone; it would eventually top eight million in America, selling over ten million copies internationally. Dookie also won the 1994 Grammy for Best Alternative Music Performance.
Green Day quickly followed Dookie with Insomniac in the fall of 1995; during the summer, they hit number one again on the modern rock charts with "J.A.R.," their contribution to the Angus soundtrack. Insomniac performed well initially, entering the U.S. charts at number two, and selling over two million copies by the spring of 1996, yet none of its singles -- including the radio favorite "Brain Stew/Jaded" -- were as popular as those from Dookie. In the spring of 1996, Green Day abruptly canceled a European tour, claiming exhaustion. Following the cancellation, the band spent the rest of the year resting and writing new material, issuing Nimrod in late 1997. Their long-awaited follow-up, a refreshingly poppy record titled Warning, was released three years later. Another long wait preceded 2004's American Idiot, an aggressive rock opera that became a surprise success -- a chart-topper around the world, a multi-platinum seller, and easily the best reviewed album of their career. Green Day reveled in the album's success, hitting numerous award shows and performing as part of Live 8 in July 2005. That fall brought Bullet and a Bible, which documented the trio's expansive Idiot live show.
Genre: Alternative/Rock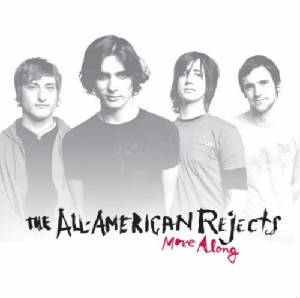 The All-American Rejects are cool. I really like their lastest single "Move Along".
All-American Rejects-Biography.
Tyson Ritter (vocals/bass) and Nick Wheeler (guitar/programming) were in junior high when music started to influence them. Both were stuck in the ho-hum life of small-town America. Stillwater, OK, wasn't exactly the most exciting place in the world, so naturally the boys turned to music. While Ritter was staying up late, watching music videos, and rocking out to AC/DC, Wheeler was on the other side of town raiding his sister's music collection of Def Leppard, Poison, and Bon Jovi records. Wheeler soon picked up a guitar and later mastered the drums and piano. By high school, both were music freaks and in their own little cliques. At a party, Ritter spotted Wheeler; it's safe to say that the spiky rock fun of the All-American Rejects was established right there. Mike Kennerty (guitar) and Chris Gaylor (drums) were added to Wheeler and Ritter's rascal group by 2000 and the band was official. With production work from Tim O'Heir (Sebadoh, Juliana Hatfield, Superdrag), the All-American Rejects independently released their self-titled debut on Doghouse in October 2002; several months later it was reissued by DreamWorks.
Yellowcard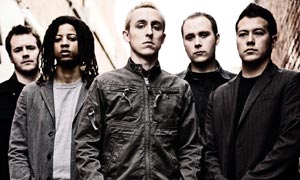 Yellowcard have a different style;they add the violin to their punk/alternative music. Their wicked!
Yellowcard-Biography.
Punk-pop quintet Yellowcard formed in Jacksonville, FL, in 1997 but didn't solidify their lineup until a move to Southern California in early 2000. Comprised of vocalist/guitarist Ryan Key, vocalist/violinist Sean Mackin, guitarist Ben Harper, drummer Longineu Parsons, and bassist Alex Lewis, the band officially debuted on wax in 2001 with One for the Kids (Lobster), and returned a year later with the Underdog EP for Fueled by Ramen. 2003 was a really big year for the group; it saw them signing with Capitol, issuing Ocean Avenue on the label, and heading out for a series of Warped Tour dates. Fall and winter found Yellowcard hitting clubs with acts like Matchbook Romance and Less Than Jake. In late March 2004, Ocean Avenue was certified gold by the RIAA as the album title track continued to impact MTV and Top 40 radio.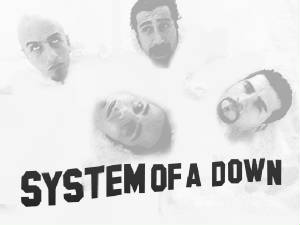 System of a Down are great. They have a cool different "crazy"! style. I like their music..
System of a Down-Biography.
Like many late-'90s metal bands, System of a Down struck a balance between '80s underground thrash metal and metallic early-'90s alternative rockers like Jane's Addiction. Their dark, neo-gothic alternative metal earned a cult following in the wake of the popularity of such likeminded bands as Korn and the Deftones.
Vocalist Serj Tankian, guitarist Daron Malakian, bassist Shavo Odadjian, and drummer John Dolmayan formed System of a Down in Southern California in the mid-'90s. They quickly earned a strong following in Los Angeles, largely based on strong word of mouth. A three-song demo began circulating through metal collectors, and their fan base soon spread throughout not only America, but Europe and New Zealand. By the end of 1997, the group had signed to American, then distributed by Columbia Records. American/Columbia released the group's eponymous debut album in the summer of 1998, securing the band opening spots on the Slayer and Ozzfest tours.
The Used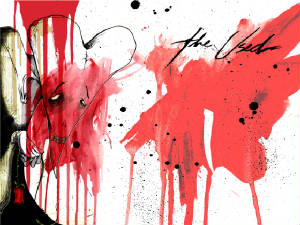 The Used rock! I like their most recent album. My favorite song of their's is "I Caught Fire(In Your Eyes).
The Used-Biography.
The members of
the Used
had to overcome poverty, homelessness and substance abuse, not to mention the strait-laced attitudes of their hometown of Orem, UT, to bring their
screamo-tinged brand of post-hardcore to life. But they persevered and earned a contract with Reprise Records, releasing their self-titled debut album in June 2002. Having only played a handful of shows around Orem prior to their record's release, the band -- vocalist Bert McCracken, guitarist Quinn Allman, bassist Jeph Howard, and drummer Branden Steineckert -- began relentless nationwide touring that quickly saw their fan base multiply. Club dates soon turned into successful stints on larger-scale festival/package tours including Warped Tour, Ozzfest, and Projekt Revolution alongside Linkin Park and Snoop Dogg. In summer 2003,
the Used
issued the introspective CD/DVD Maybe Memories, which contained unreleased songs, live material, behind-the-scenes footage and more. Their official sophomore offering showed up in September 2004 as In Love and Death.
Nickelback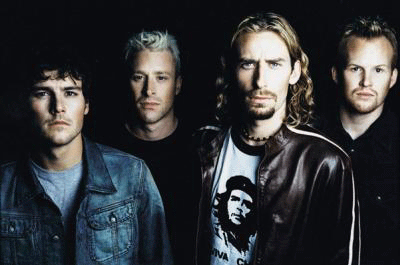 Nickelback are cool. I really like the lead singers voice and the music and lyrics go well together.
Nickelback-Biography.
Canada's Nickelback started life as a cover band in Hanna, 215 kilometres northeast of Calgary. Eventually, they tired of playing other people's songs and singer/guitarist Chad Kroeger put together a bunch of original songs, borrowed 4,000 bucks off his stepfather, and went to big city Vancouver to record them in a friend's studio. Based on the results, Kroeger's guitarist brother, Mike, and pal bassist Ryan Vikedal all relocated to Vancouver in 1996; that same year, they recorded and released the EP Hesher and full-length Curb independently and embarked on a series of cross-country tours. The group's singer had spent two years selling advertising for a soccer magazine and now applied some of the skills he had learned to his band. He asked his friends to fax and phone radio stations to request their first single until it was played often enough for Nickelback to pick up fans on their own.
In late 1998, the band decided their managers were unable to bring them to the next level and started managing themselves. Mike Kroeger handled all the distribution, brother Chad handled all the radio tracking, and Ryan Vikedal handled all the bookings. The group had also invested $30,000 into a new album. The State was released independently in January 2000 during a slow rock period when Canadian content requirements were increased and local rock radio began desperately seeking out homegrown product. What they found was Nickelback's single "Leader of Men." Nickelback toured ceaselessly for The State and 200 shows later, the band had gone from virtual unknowns to playing in front of over a million people alongside the likes of Creed, 3 Doors Down, Fuel, and more. The band's post-grunge commercial appeal wasn't lost on the record industry and The State was snapped up by Roadrunner/Island, Def Jam in the U.S., and EMI in Canada. It eventually sold an impressive 500,000 copies.
Many of the songs that comprised the next album, Silver Side Up, were written even before The State was released in America and road-tested in front of eager audiences on cross-country treks. The other significant change about this set of songs was Chad Kroeger's conscious decision to write his lyrics in a more direct manner rather than the metaphoric and vague lyrics of previous releases. "Too Bad" was about the father who was never around when Chad and his brother were growing up. "Never Again" is a song inspired by broken homes. "How You Remind Me," the first single from the album, was written at rehearsals shortly before the band went into the studio.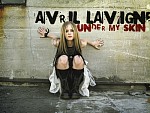 Avril rocks! Her lyrics have good meaning.
Avril Lavigne-Biography.
Rock & roll wild child Avril Lavigne hit big in summer 2002 with her spiky-fun debut song "Complicated," shifting pop music into a different direction. Lavigne, who was 17 at the time, didn't seem concerned with the glamor of the TRL-dominated pop world and such confidence allowed her star power to soar.
The middle of three children in small town Napanee, Ontario, Lavigne's rock ambitions were noticeable around age two. By her early teens, she was already writing songs and playing guitar. The church choir and local festivals and county fairs also allowed Lavigne to get her voice heard, and luckily, Arista Records' main man Antonio "L.A." Reid was listening. He offered her a deal, and at 16, Lavigne's musical dreams became reality.
With Reid's assistance and a new Manhattan apartment, Lavigne found herself surrounded by prime songwriters and producers, but it wasn't impressive enough for her to continue. She had always relied on her own ideas to create a musical spark and things weren't going as planned. Lavigne wasn't disillusioned, though. She headed for Los Angeles and Nettwerk grabbed her. Producer/songwriter Clif Magness (Celine Dion, Wilson Phillips, Sheena Easton) tweaked Lavigne's melodic, edgy sound and her debut, Let Go, was the polished product. Singles such as "Complicated" and "Sk8er Boi" went top 10 while "I'm With You" and "Losing Grip" did moderately well at radio. Butch Walker of the Marvelous 3, Our Lady Peace frontman Raine Maida and Don Gilmore (Linkin Park, Good Charlotte) signed on to produce Lavigne's second album. Under My Skin appeared in May 2004.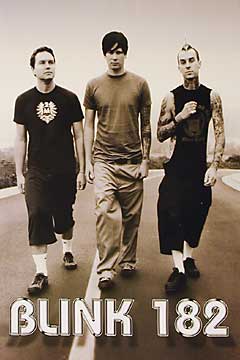 Blink 182 are wicked! I like their style and music.
Blink 182-Biography
Only the San Diego-bred band Blink-182 could pull off performing for fans in their birthday suits and still have a strong fan following. The band members Mark Hoppus, vocals/ bass; Tom Delonge, vocals/ guitar; and Travis Barker, drummer, known for their childlike character and lewdness, continue to ride the success wave and show no signs of growing up or slowing down. Their popular Enema Of The State garnered many hits for the band, including, "What's My Age Again," "Going Away To College," and "All the Small Things," but also had the intention to educate. According to Hoppus, "In order to maintain good health, your body must be able to eliminate food and bodily waste." "For abnormal function," Barker explains, "colon hydrotherapy--or enemas, as they are commonly known--are recommended."
Aside from helping to cure pesky health problems, Blink-182 performs pop-punk in a manner that sets them apart from most of-the- wall bands. In 1997, with Dude Ranch, they quickly caught on with carefree young adults, whose support sent the album to gold in the U.S. But their fanbase is not limited only to the States, as the record has gone gold in Canada and is certified platinum in Australia. The single "Dammit (Growing Up)" off this album earned top spins at many key radio stations, becoming the No. Two most-played record on KROQ/L.A., No. Two on KITS/San Francisco, and No. Two on CIMX/Detroit, to name a few.
Muse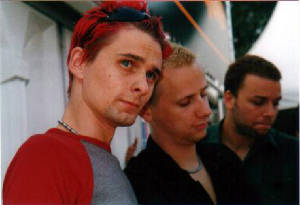 Muse are fantastic, their music is so great, and the vocals are good too.
Muse-Biography.
The English rock trio Muse consists of guitarist/vocalist Matthew Bellamy, bassist Chris Wolstenhome and drummer Dominic Howard. Bored by the sleepy life their hometown of Teignmouth, Devon provided, the three friends began playing music together. They started the first incarnation of their band when they were all 13, changing the name of the group from Gothic Plague to Fixed Penalty to Rocket Baby Dolls as time passed. By 1997 the band settled on the name Muse and released their self-titled debut EP on Dangerous Records, followed by the Muscle Museum EP in 1998. The group's emotive, Radiohead-like sound and live dates drew critical acclaim and industry buzz, and after a trip to New York's CMJ festival, Muse signed a deal with Maverick Records. Singles like "Cave" and "Uno" preceded their debut full-length album Showbiz, which was released toward the end of 1999. Two years later, Muse issued The Origin of Symmetry and had a major hit with "Hyper Music." In 2002, fans were treated to the double-disc live set Hullabaloo. Muse's fourth album, Absolution, got the usual royal treatment upon its late-2003 release. Stateside fans finally got a taste of Absolution when it was released on Warner Bros. the following March. A short North American tour in the spring coincided Muse's spot on the fifth annual Coachella Music and Arts Festival in May 2004.
Genre:Hip Hop/Rap.
Eminem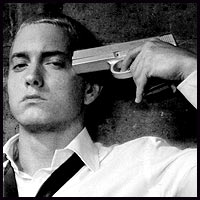 I think Eminem's brilliant. He speaks the truth about how he feels in his songs which is really good
In a few short months, Eminem has gone from being one of the most heralded emcees in independent hip-hop to one of the most provocative, controversial rappers in contemporary pop music. The overnight success of his debut album, The Slim Shady LP, literally rocked the rap world, making him one of the biggest music success stories of 1999. But Eminem is more than the latest rap artist to blow up. He's spent the last several years paying his dues, and his lyrics, which cover topics such as poverty and single parenthood, reflect a rough upbringing. His unlikely acceptance by the pop mainstream has made some wonder how his popularity will affect the future of hip-hop music.

Before he had the world singing along to "My Name Is …," he was Marshall Mathers, a poor kid growing up in Warren, Mich. "It's like the real, stereotypical, trailer park, white trash," Eminem told Rap Pages earlier this year. As a child, he and his mother moved constantly, staying at relatives' homes in places as disparate as Warren and Kansas City, Mo. As a result, Marshall found it difficult to make friends, and he retreated into his comic books and television. "I didn't really start opening up until eighth grade, going into ninth," he said.

When Mathers was 12, his mother finally settled down on the east side of Detroit. There, he attended Lincoln Junior High School and Osbourne High School, hanging out with friends and listening to artists like LL Cool J and the 2 Live Crew. He battled against other rappers at his high school, and quickly gained a reputation as a nimble rhymer. But his penchant for skipping school led him to fail the ninth grade. After dropping out of high school, he held down several odd jobs, while continuing to work on his craft. "I tried to go back to school five years ago," he said, "but I couldn't do it. I just wanted to rap and be a star one day."
Others: I also like; My Chemical Romance, Placebo, Stereophonics and Hawthorne Heigths.